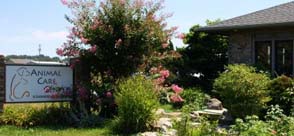 Doctors Ashley and George Bowers welcome you to Animal Care Center – a Winchester Veterinary Clinic.
We are a companion animal practice located in Winchester, Tennessee. Our team is dedicated to the health and well-being of your pets.
This website is designed to provide you with information about the health of your companion animals, as well as the services we provide.
Winchester Veterinary Clinic
A contemporary, two-doctor practice, ACC provides a full array of animal care services. We perform routine and emergency surgery, and we have a 24-hour emergency service for our clients. Our staff is very knowledgeable about flea and tick prevention, intestinal parasites and prevention, as well as heart worm disease and prevention.
We accept new clients daily and would love to provide care and comfort for your pets. Give us a call and schedule an appointment. You and your pet will be so happy you did!
We Gladly Accept CareCredit®
Animal Care Center is now accepting Care Credit as a way of financing your pets' necessary health care. CareCredit® offers veterinary financing to help cover annual expenses like preventative care check-ups or for unexpected costs like pet prescriptions and house calls. The CareCredit® healthcare credit card makes it easy to give your pets the care they need, when they need it. Click the image below or call 931.967.6345 to talk to our staff about this option for your pets.

Save