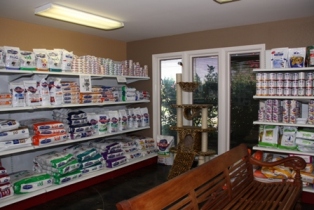 When you purchase your pet food, it is important that you pay special attention to the ingredients label. Poor nutrition can lead to a variety of health problems including chronic ear infections and diarrhea. Certain foods may also cause allergies in your pet.
Pet Food Needs
It is important that your pet gets fresh water, protein, carbohydrates, vitamins and minerals – not by-products, fillers, artificial flavors, or preservatives.
At Animal Care Center, we stress the importance of good pet nutrition. That's why we sell the complete line of Royal Canin Maintenance and Prescription foods.
If you need to place an order for a specific pet food, please feel free to contact us by phone 931-967-6345 or visit our online store.
Save